Testing Info for MS/HS Students - THURSDAY, APRIL 8th: Middle School - 8th Grade Students who are Virtual/Blended ONLY - Report to MS building by 8am. High School - 11th Grade Students (ACT) - **Testing Schedule has been emailed to students**

Testing Info for MS/HS Students - WEDNESDAY, APRIL 7th: Middle School - 7th Grade Students who are Virtual/Blended ONLY - Report to MS building by 8am. High School - 11th Grade Students (ACT) - **Testing Schedule has been emailed to students**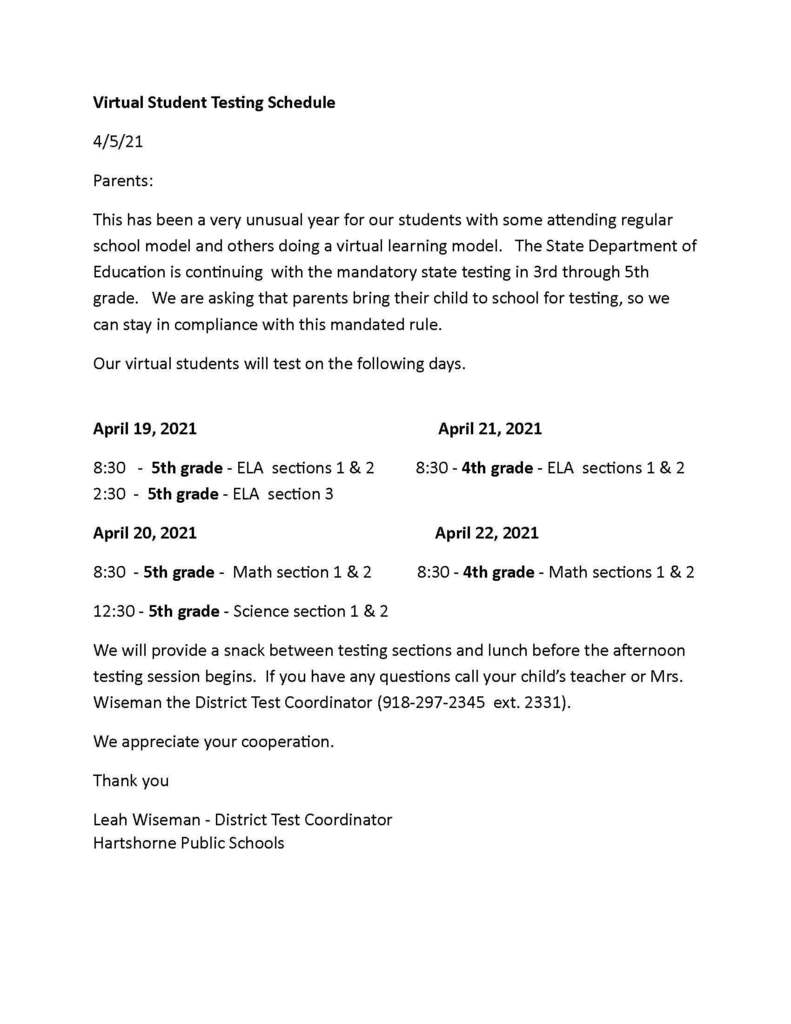 Testing Info for MS/HS Students: TUESDAY, APRIL 6th: Middle School - 6th Grade Students who are Virtual/Blended ONLY - Report to MS building by 8am. High School - 11th Grade Students (ACT) - **Testing Schedule has been emailed to students**
Reminder: Tomorrow, April 1, is a Distance Learning Day for ALL STUDENTS.

Attention Students (grades 7-11) who are interested in trying out for Color Guard for the 2021-2022 school year - Meeting in the Band Room Monday, April 5th @ 3:20pm.

UPDATE The OSDH will be at HHS to give the 1st shot of Pfizer vaccine on April 7. The 2nd shot will be given on May 4. We have had great response so far, please email your name and age to
vaccines@hartshorne.k12.ok.us
to sign up. You must be 16 or older to receive this vaccine.
ATTENTION The OSDH has offered to come to HHS to administer COVID-19 vaccine to any student 16 years or older, or adult who wishes to receive the vaccine at this time. Please email
vaccines@hartshorne.k12.ok.us
with your name and age to be place on the list. Date TBD.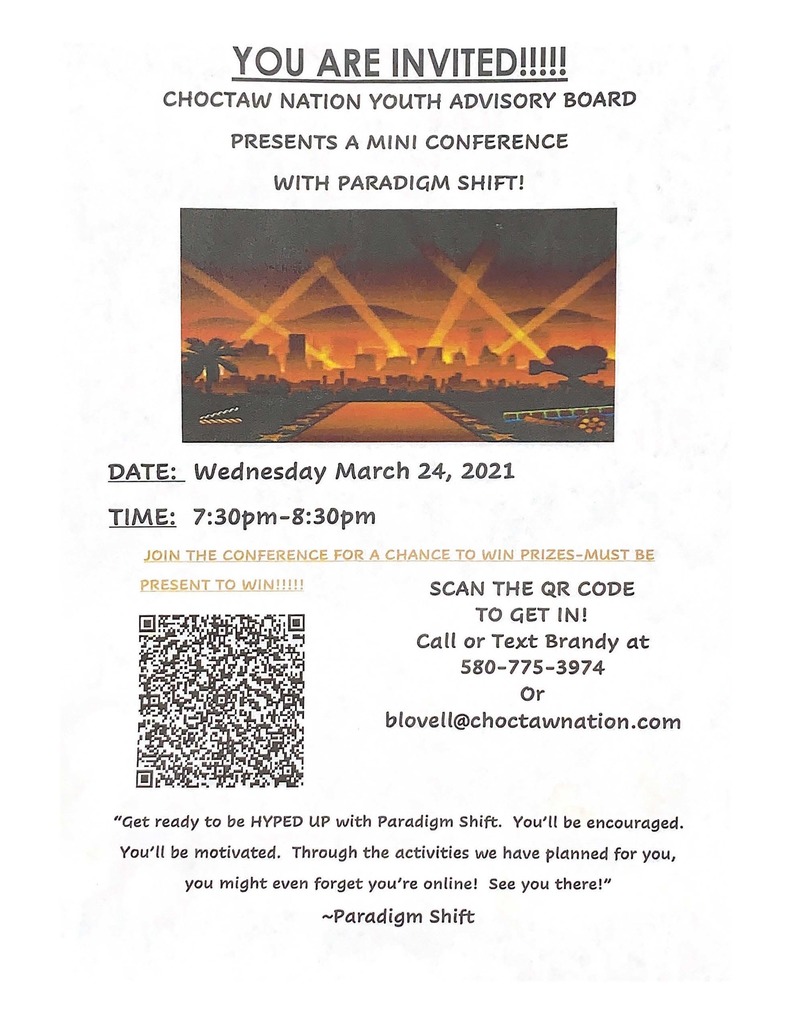 ATTENTION This Thur. will be a Distance Learning Day. Students will complete work from home. Friday is still a Snow Day and Spring Break is next week! OYE and the State Basketball Tournaments are beginning so we wish our students Good Luck as they represent THE Miner Nation!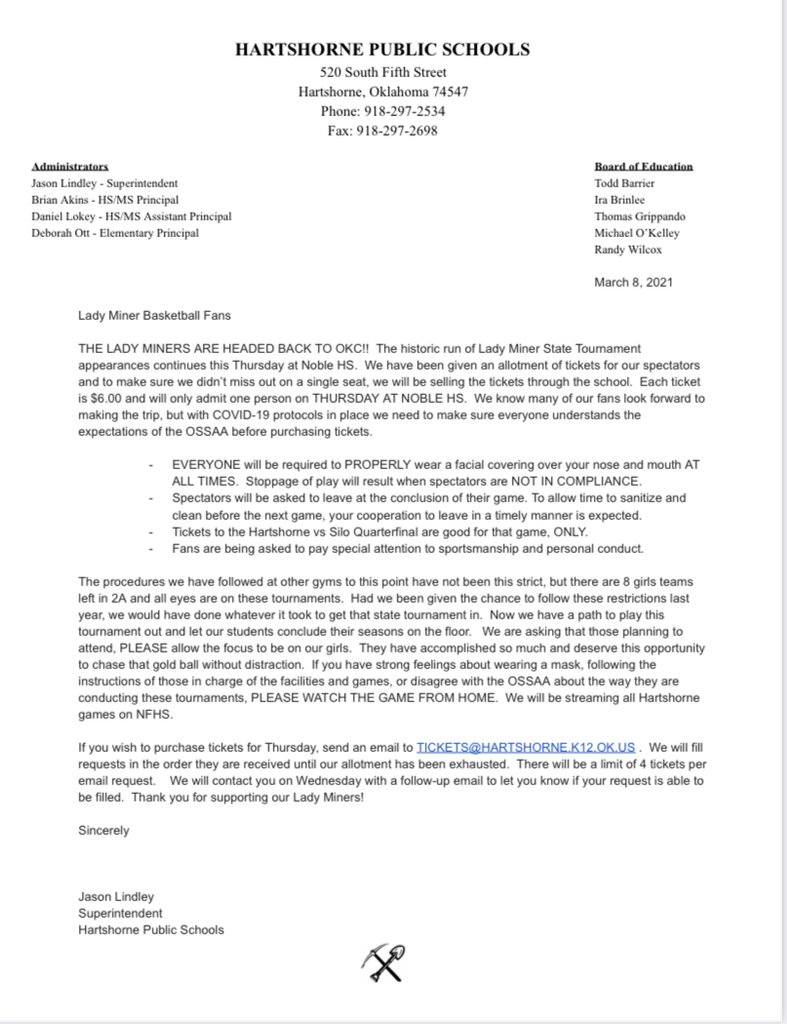 ATTENTION State Tournament tickets go on sale at 7:00pm. Send your request to the email that is listed in the 7pm update. Go Lady Miners!!
State BB Tickets Tickets will go on sale TONIGHT at 7pm through the school. We will announce the email address at that time where requests MUST be sent. The 1st Rd has an allotment of 300 tickets per school. A limit of 4 tickets per email address (request) will be enforced.
STATE TOURNAMENT INFO We are working with the OSSAA on the protocols for attending the Hartshorne vs Silo game on Thursday in Noble at 6:00pm. We will make an announcement on ticket information tomorrow at noon. Go Lady Miners!!


REMINDER Students DO NOT report tomorrow (3/5). Teachers will report for a mandatory Professional Day.